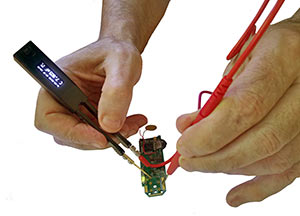 Kelvin Probe Connector for LCR-Reader and Smart Tweezers
Use LCR-Reader and Smart Tweezers as a full probe station and measure components wider than the tweezers' gap
The Kelvin Probe Connector for LCR-Reader and Smart Tweezers is a shielded two-wire connector that allows the LCR-Reader and Smart Tweezers devices to become full probe stations and to measure components larger than the tweezer tips would normally allow.
The Probe Connector comes with 5 attachments to suit the task at hand: 2 alligator clips, 1 long pin-probe, 1 medium pin-probe, 1 spade connector, and 2 multimeter 4 mm jack plugs.
Easy to set-up, the Kelvin Probe Connector's wire connector replaces one of the tips on the LCR-Reader. Each attachment is screwed onto the attachment end of the . Simply turn on LCR-Reader or Smart Tweezers and being testing!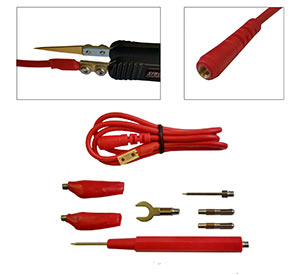 Features
Includes:
1 long pin-probe
1 medium pin-probe
1 spade connector
2 alligator clips
2 4mm multimeter jacks
Cable Length:
60 cm
---
Now Available: Fine and Extra-Fine Pin Probes for LCR-Reader Probe Connector


Siborg has added
Extra-Fine (73 mm)
and
Fine Pin Probes (124 mm)
for Kelvin Probe Connector to the LCR-Reader Store. Each pin probe can be used with the Kelvin Probe Connector of 4 mm multimeter jacks. The probes are extra sharp for more precision while testing small components on packed PCBs.
Note: the Extra-Fine and Fine Pin Probes are sold separately. LCR-Reader Probe Connector or wire is Not included.
Purchasing Info

Advance Tech Services (P) Ltd.
709-710, GD-ITL Towers
B-8, Netaji Subhash Place
Pitampura, New Delhi - 110034
India
30 days money back guarantee.
Limited time Offer: 2 Years Warranty
SALE PRICE - CA $399.99 (US $399.99)
How to Purchase
You may place your order in one of the following ways:
Fax:
+91.11.47002029
Phone:
+91.11.47002024
Smart Tweezers LCR-Reader History of Digital Multimeter History of Smart Tweezers
---