LCR-Reader-MP: Multipurpose LCR and ESR meter
The newest member in the LCR-Reader family offers a 0.1% basic accuracy and up to 100 kHz test frequency for measuring SMT
Available in September 2017. Introductory price of $388.99 USD. Pre-order yours today!

The newest model in the LCR-Reader family of LCR meters is the LCR-Reader-MP which features a basic accuracy of 0.1%, more features and 100 kHz test frequency for a 1 nH resolution for inductance measurements and 0.01 pF for capacitance.
The device has more features than the Smart Tweezers ST-1 model, including pulse counting, signal generation, AC/DC voltage measurements, oscilloscope mode, etc.
When using oscilloscope mode, the device is able to analyze wave-forms with frequencies up to 100 kHz on active PCBs. This mode is especially helpful when used with the
Kelvin Probe Connector
to check waveforms at various nodes on the PCB.
The LCR-Reader-MP is especially useful for measuring very large capacitances up to 600 mF. Electrolytic capacitors are measured at 120 Hertz with ESR measured at 100 kHz according to regular electrolytic capacitor test conditions. The test frequency is reduced to 25 Hertz when using the 'Large Capacitance' mode, allowing to evaluate very large capacitances with reasonable accuracy. The LCR-Reader-MP offers a wide range of test frequencies for optimal test conditions. (100, 120 Hz, 1, 10, 20, 30, 40, 50, 60, 75 and 100 kHz)
A few downsides of the device is a maximum test signal level of 0.65 Vrms and a high test signal source resistance of 1 kOhm. The test signal level may not be enough for reliable measurements of certain ceramic capacitors, leading to lower than actual values.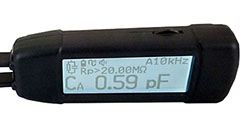 The MP is twice the size of LCR-Reader at 2 oz. weight. This size allows for a larger, easier to read display. The device is controlled using a jog-wheel navigation and is powered by Li-Ion battery.

LCR-Reader-MP Calibration Results


LCR-Reader-MP FCC Test Results performed at the Electronics Test Centre by MPB Technologies Inc. (Airdrie, Alberta, Canada)
Features
Automatic LCR, ESR and LED/Diode measurements
0.1% Basic accuracy
Oscilloscope Transient Voltage display for up to 100 kHz
Measurements of Frequency, Pulse period, Duty Cycle up to 400 kHz
Signal Generator: Sine, Rectangle, Triangle pulse shapes up to 100 kHz
AC/DC voltage measurement up to 15 V
Diode/LED and Continuity test
Two Test Signal levels, Automatic Test Signal Reduction to 0.1 V for in-circuit measurements
Easy Short/Open Calibration, Offset Removal
Display active and reactive impedance components
Can measure components to a 0201 size (about 0.3 mm)
2 Oz. (60 grams) weight
Li-Ion battery and micro-USB charger
---
Purchasing Info

Advance Tech Services (P) Ltd.
709-710, GD-ITL Towers
B-8, Netaji Subhash Place
Pitampura, New Delhi - 110034
India
30 days money back guarantee.
Limited time Offer: 2 Years Warranty
SALE PRICE - CA $399.99 (US $399.99)
How to Purchase
You may place your order in one of the following ways:
Purchase Online
Fax:
+91.11.47002029
Phone:
+91.11.47002024
Smart Tweezers LCR-Reader History of Digital Multimeter History of Smart Tweezers
---