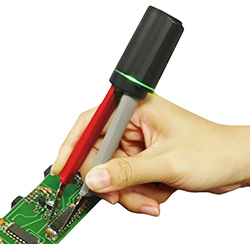 LED Test Tweezers
Test LEDs, switches, fuses, and circuitry quickly with just a touch
LED Test Tweezers Manual
---
Easy-to-Use Handheld Tester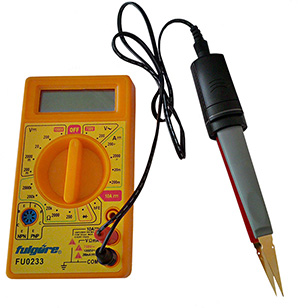 The New LED Test Tweezers offer users an easy way to test and troubleshoot LEDs, switches, fuses, components and PCB circuitry with just a touch.
Designed for testing LEDs, the LED Test Tweezers use a 12VDC output with variable current ratings of 5mA, 10mA and 20mA. To determine polarity, simply look at the arms of the device; red signifies cathode (+) and grey for anode (-). The sharp bronze phosphor tips are sharp enough to reach even the smallest components on a crowded PCB.
For testing small components, LED Test Tweezers can be connected to a multimeter using the included cable. When connected, the device acts as tweezer probes for the LCR-meter, making testing components easier.
The device is only 50 grams and 15cm long making it portable enough to carry in a bag to on-the-field-jobs.