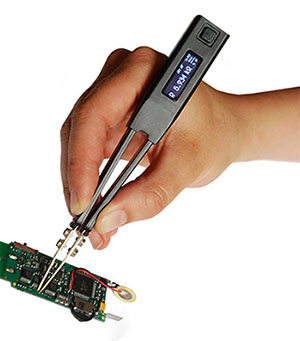 New Smart Tweezes ST-5S
New ST-5S offers all the same features and accuracy as the ST-5 model, but with a thinner body, lighter weight and bright display.

LCR-Reader Video

Smart Tweezers FAQ


Smart Tweezers Calibration Jig Certificate

Smart Tweezers Manual

ST-5S Brochure

ST-2 Brochure

Model ST5

LCR-Reader
---
LCR-Reader-MP: Multipurpose Device with High Accuracy and Extensive Features

LCR-Reader-MP is available starting September 2017.
Available for Pre-Order!
The MP features a high basic accuracy of 0.1% and has a 100 kHz test frequency for 1 nF resolution for inductance measurements and 0.01 pF for capacitance. The device features more test modes than Smart Tweezers ST-1 including frequency measurements, oscilloscope mode and AC/DC voltage measurements.
Available in September 2017. Pre-orders available from Siborg Systems Inc for $388.99 USD.
---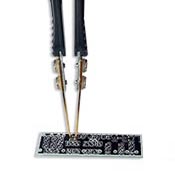 The Offset Calibration Board for Smart Tweezers is a dummy PCB that uses holes to represent various widths of components (0201, 0204, etc.) and is used for accurately measuring the offset capacitance of components. Instead of estimating the width of a component to find the offset value, the board has holes in which the user places the tips of the device in. The device will then display the value of the parasitic which can then be set to be removed or subtracted manually. Set the device to 10 kHz and place the tips in the corresponding holes to the component size.
The Offset Calibration Board is available in the LCR-Reader Store
and is also included with every Smart Tweezers device and in the Pro and Plus Task Kits.
---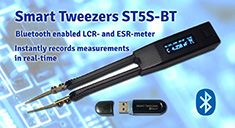 The Smart Tweezers ST5S-BT2 is a Bluetooth enabled model of Smart Tweezers ST-5S. This model allows users to send and receive information to the Smart Tweezers device. Users can set custom measurement profiles that include test parameters which components must meet. If a component meets the set standards, the program grants it a pass. Custom profiles can be set from scratch or based on a previous components measurements.
All recieved data can be saved into spreadsheets, databases or other formats. Depending on the software used, the data can be processed or visualized. Smart Tweezers ST5S-BT is compatible with National Instrument's LabView, Windows' Smart Tweezers Bluetooth Utilty, and dedicated apps for iOS and Android.
Smart Tweezers ST5S-BT2 is available in the LCR-Reader Store
with or without the Bluetooth receiver stick.
---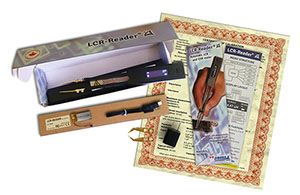 The LCR-Reader Pro task kit includes an NIST Traceable Calibration Certificate, pre-calibrated LCR-Reader, spare bent tweezer tips, spare Li-Ion battery and USB cable.
The LCR-Reader Pro is available in the LCR-Reader Store.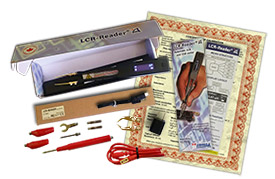 ---
Siborg's LCR-Reader Pro Plus Task Kit includes a calibrated LCR-Reader device with an NIST traceable calibration certificate, spare bent tweezers probes, spare Li-Ion battery, charger, and Kelvin Probe Connector set. This task kit, and many others, are available in the
LCR-Reader Store.
---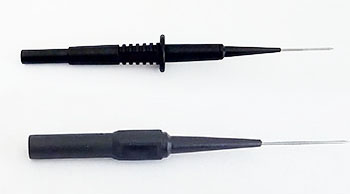 Siborg is now offering the LCR-Reader/Smart Tweezers Kelvin Probe Connector in the LCR-Reader Store. This extension kit tranforms LCR-Reader, LCR-Reader-MP and Smart Tweezers into a full probe station. The shielded two-wire connection virtually eliminates additional offsets due to the parasitics of the wires. The kit allows for testing components larger than the tweezer's tips would normally allow. It comes with 5 different attachments suited toward different tasks.
Read more about the Kelvin Probe Connector here
New probes are available! These pin probes for the Kelvin Probe Connector come in two sizes: a 73mm Extra-Fine Pin Probe and a 124 mm Fine Pin Probe. These probes offer better precision while measuring on crowded PCBs.
---
Siborg has begin offering a new device for use with multimeters: the SMD Multimeter Test Tweezers. This new device attaches to most multimeters and allows users to test and troubleshoot Surface Mount Technology using tweezers instead of long wire probes.
Read more about SMD Multimeter Test Tweezers here
---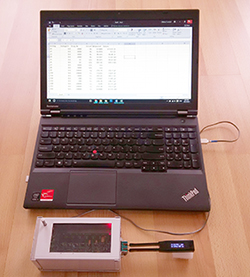 ---
Siborg Creates Calibration Fixture for LCR-Reader and Smart Tweezers
With help from the Russian Academy of Sciences in Novosibirsk, Siborg has created a new calibration fixture that can provide NIST traceable certificates for LCR-Reader and all models of Smart Tweezers. Read more about the new fixture
here
---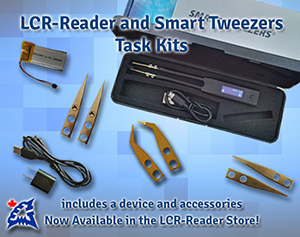 Siborg Systems Inc. has recently redesigned the
LCR-Reader Store
with a new look! The new design feels more akin to other online shopping with the ability to read the product details before adding items to the cart. Siborg has also added new 'Task Kits'. These kits are preassembled combinations of a device with spare parts, ie: a Smart Tweezers ST-5S with precision tips and bent tips, or an LCR-Reader with charger and spare battery. Each kit offers customers a better price than buying each piece separately. Visit the newly redesigned
LCR-Reader Store!
---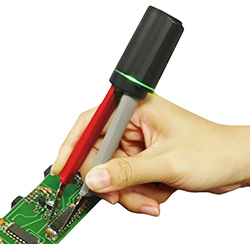 LED Test Tweezers from Siborg Systems Inc. are a new device that allows quick and easy testing of LEDs, switches, fuses, components and circuitry. This handy device uses a 12 VDC output with variable current ranges and can be connected to a multimeter to be used as probes. Find out more
here
---
High Accuracy and Ease-of-Use in the Palm of Your Hand
Smart Tweezers are a handheld digital LCR-meter with a lightweight and easy to use design. The combination of a set of tweezers, a powerful LCR-meter and a small display allow the user to test components and circuits by just grasping components in between the tines. Automatically, Smart Tweezers will determine the type of component, best test range and signal and test for Inductance, Resistance, and Capacitance while also testing for secondary values such as ESR or |z|. The gold-plated tweezers are able to grab components as small as 0201 size or 0.3mm, either loose or mounted. Smart Tweezers is unlike any other similar device available with it's many feautures, semi-automatic offset subtraction and the ability to calculate impedances, both real and imaginary.
Efficient and Time-Saving Testing
To provide high accuracy, Smart Tweezers has a 4 wire Kelvin Probe running from the tips of the tweezer to the PCB insulated by handles, this means significantly less noise and better measurment precision. Features on Smart Tweezers include: semi-automatic offset subtraction feature which removes parasitics automatically after being set. The component sorting feature allows the user to test and identify components by just grasping them, this saves significant amount of time without needing to set-up the evaluation. Smart Tweezers are also exceptional for testing and debugging circuits, using a diode and continuity test feature. This feature utilizes an internal beeper that will sound when a reading is below threshold or an open circuit has been detected. Manual modes are available when a task needs specific parameters, users can select the test range or signal frequency that they need by just pushing the joystick-like-navigation: up, down, left or right, there is no need to enter the menus.
Smart Tweezers LCR-meter is a high precision tool with a basic accuracy of 0.2%, and it is arriving with an NIST Traceable Calibration Certificate. The LCR-Reader, a consumers choice LCR-meter, exceeds accuracy specs of Smart Tweezers ST-1, ST-2, and ST-3 models. The new device has a lower weight of 1 oz., half that of previous models, a price below $200 mark, and a basic accuracy of 0.5%, although the package does not include a calibration certificate. Similarly to older Smart Tweezers models, The LCR-Reader only uses 0.5 Vrms test signal, and due to that, is limited when testing some types of capacitors, including ceramic. It is well known fact that a test signal lower than 1 Vrms leads to an underestimated ceramic capacitor values, as it is documented in the
ST-2 User's manual
on p. 16.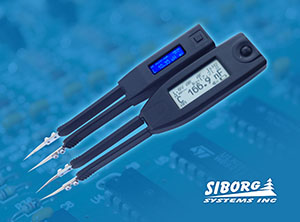 Smart Tweezers ST-5S offers users component sorting, adjustable test signal levels of 0.2, 0.5 and 1 Volt, and automatic offset subtraction. The ability to use 1 Volt test signal is of crucial importance for testing ceramic capacitors (X5R type and similar). The older models used to read about 30% lower than actual capacitance value due to a non-linearity of this type of capacitors.
Long Lasting Power
Smart Tweezers is powered by a Li-Ion battery with USB charging, making it ultimately portable. It has 80 hours of battery life and takes about 2 hours to charge fully.
Bright, Instant Display
The OLED display embedded in Smart Tweezers handles instantly shows the result of the evaluations. The largest font shows the main impedance, and the secondary impedances above that, such as the ESR value. The component type, measurement mode, and a battery charge indicator are also present. For left handed uses, the screen can be adjusted in the menu for more comfortable viewing.
The newest models use an OLED display instead of the LCD in older models; this bright display makes it easy to see results even in poorly lit situations.
Feature Summary
Fully automatic Inductance, Capacitance, Resistance and Equivalent Series Resistance (ESR) measurements
Basic accuracy of 0.2%
Automatic selection of the best range
Component sorting with 1, 5, 10 and 20% tolerance
Lithium-Ion battery and USB Charger
Continuity and Diode test
Semi-automatic offset subtraction
Weight of 1 oz.
Easy to use and operate with one hand
Ergonomic design
---
Purchasing Info

Advance Tech Services (P) Ltd.
709-710, GD-ITL Towers
B-8, Netaji Subhash Place
Pitampura, New Delhi - 110034
India
30 days money back guarantee.
Limited time Offer: 2 Years Warranty
SALE PRICE - CA $399.99 (US $399.99)
How to Purchase
You may place your order in one of the following ways:
Purchase Online
Fax:
+91.11.47002029
Phone:
+91.11.47002024
Smart Tweezers LCR-Reader History of Digital Multimeter History of Smart Tweezers
---